Ondas e islas de calor registrados en Santiago de Chile en enero de 2017
Palavras-chave:
Ondas de calor. Islas de calor. Climas urbanos. Santiago de Chile
Resumo
En enero de 2017, Chile Central fue afectado por una intensa ola de calor, que causó el peor incendio forestal en sus áreas rurales, elevado disconfort térmico en sus ciudades y una generalizada preocupación respecto a la capacidad institucional del país para enfrentar estos tipos de eventos climáticos extremos y sus adversos impactos ambientales. Las tablas y mapas presentan la distribución espacial y temporal de las temperaturas registradas en las Zonas Climáticas Locales que corresponden a algunos de los barrios de la ciudad de Santiago, permitiendo identificar áreas en que se deben implementar medidas de planificación y diseño urbano que mitiguen los efectos de estos eventos extremos en el futuro.
Referências
-BAEK, J. (2010). Climate, Sustainability and The Space Of Ethics, Architectural Theory Review, 15:3, 377-395.
-HULME, M. (2007). Geographical work at the boundaries of climate change. Transactions of the Institute of British Geographers 33:5-11.
-HULME, M. (2009). Cosmopolitan Climates: hybridity, foresight and meaning. Theory, Culture and Society on Global Heating: social theory looks at climate change.
-HULME, M. (2015). Climate and its changes: a cultural appraisal. Geo: Geography and Environment, published by John Wilwy and Sons.
-POPKE, J. (2016). Researching the hybrid geographies of climate change:reflections from the field. Area, 2016, 48, 1: 2-6.
-ROMERO, H. -"Vulnerabilidad, resiliencia y ordenamiento territorial de los desastres socionaturales en Chile". Revista Polígonos, España, 26 (2014): 87-110, Publicación de las universidades de Valladolid, Salamanca y Castilla La Mancha.
-ROMERO, H., FUENTES, C. y SMITH, P. "Dimensiones geográficas territoriales, institucionales y sociales del terremoto de Chile de febrero 2010". Cuadernos de Geografía, Revista Colombiana de Geografía. Bogotá: Universidad Nacional de Colombia, nº 19, 2010, p. 135-150.
-SMITH, P. y ROMERO, H. (2016). Construcción de un modelo para estudiar la distribución termal urbana en Santiago de Chile. Revista de Geografía Norte Grande 63:45-62
-STEWART, I.D. & OKE, T. (2009), Classifying urban climate field sites by local climate zones: The case of Nagano, Japan. In: Preprint, Seventh International Conference on Urban Climate, 29 june -3 july 2009, Yokohama.
-TESURO, W. (1988/1935). Climate and Culture: A philosophical study (Trans Bownas, G.) Green Wood Press, New York.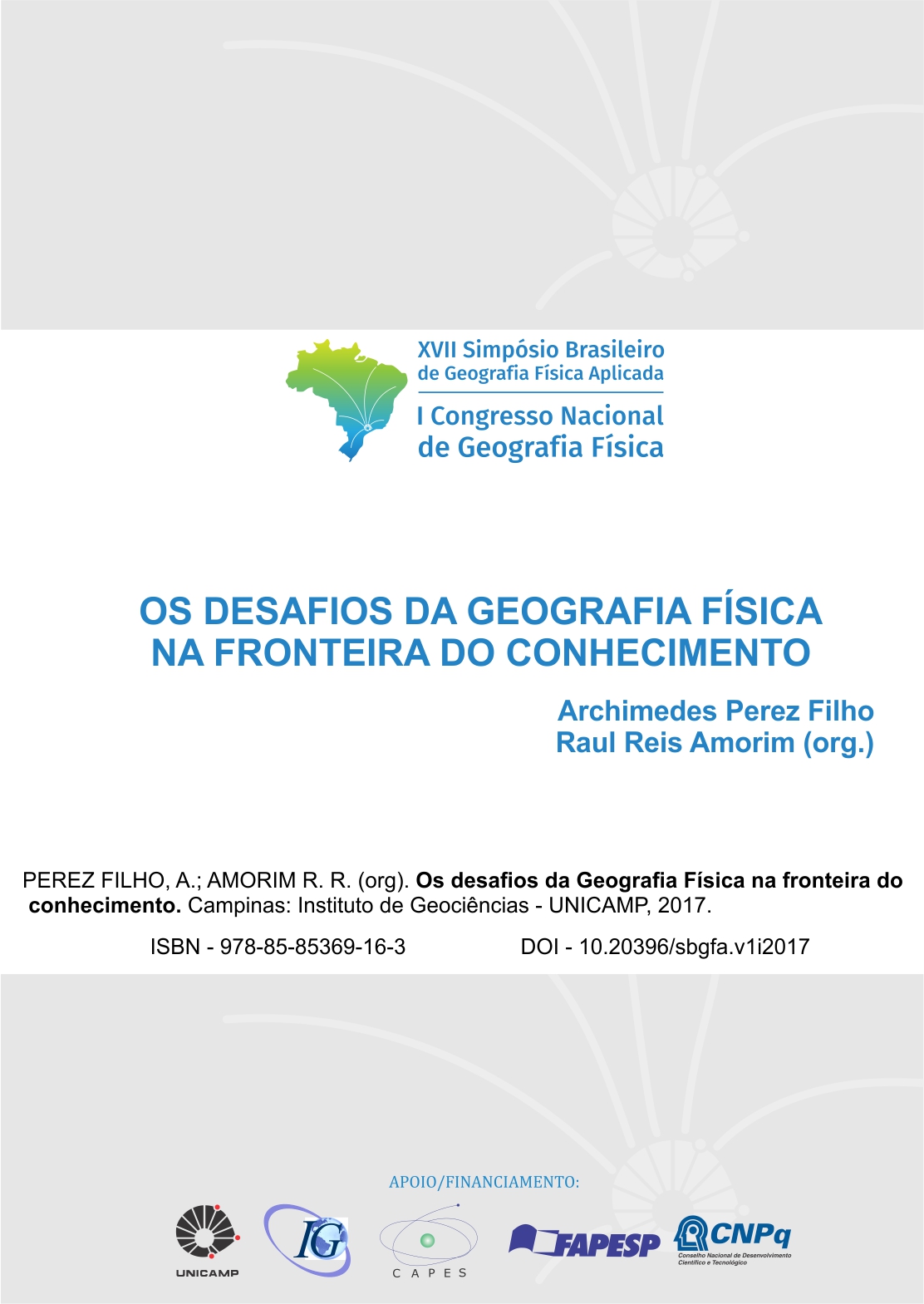 Downloads
Seção
Climatologia em diferentes níveis escalares: mudanças e variabilidades