Cultura, topoclimatología y cambios de clima en la zona andina del desierto de Atacama
Palavras-chave:
Topoclimatología. Comunidades andinas. Norte de Chile
Resumo
Las investigaciones geográficas sobre cambios de clima deben considerar simultáneamente las aproximaciones topoclimáticas estadísticas convencionales y aquellas culturales, basadas en las prácticas, conocimientos y símbolos de las comunidades locales, para dar cuenta de las síntesis territoriales sobre las que la sociedad necesita decidir sus estrategias de adaptación. Nuevos conceptos relativos a la díada clima-cultura permiten interpretar la epistemología, ontología y metodología que caracterizan a las redes de actores y sus topologías espaciales, representadas en zonas topoclimáticas que caracterizan al Norte de Chile. Los topoclimas y los cambios de climas son revisitados a partir de interpretaciones etnográficas, actualizadas con informaciones aportadas por talleres y entrevistas realizados en las comunidades andinas de la región de Tarapacá.  
Referências
-BOELENS, R. (2014). Cultural policies and the hydrosocial cycle: Water, power and identity in the Andean highlands. Geofroum Volume 57, November 2014:234-247.
-GOLDMAN, M.; Daly, M. and Lovell, E. (2016). Exploring multiple ontologies of drought in agro-pastoral regions of Northern Tanzania: a topological approach. Area, 2016, 48.1:27-33.
-GREBE, M. E. (1990). Concepción del tiempo en la cultura aymara: representaciones icónicas, cognición y simbolismo. Revista Chilena de Antropología. Facultad de Ciencias Sociales, Universidad de Chile. (9:63-81).
-HEAD, L. and GIBSON, C. (2012). Becoming differently modern: geographic contributions to agenerative climate politics. Progress in Human Geography 37:93-114.
-HULME, M. (2015). Climate and its changes: a cultural appraisal. Geo: Geography and Environment, published by John Wilwy and Sons.
-HULME, M. (2009). Cosmopolitan Climates: hybridity, foresight and meaning. Theory, Culture and Society on Global Heating: social theory looks at climate change.
-HULME, M. (2007). Geographical work at the boundaries of climate change. Transactions of the Institute of British Geographers 33:5-11.
-MATHER, J.R.; FIELD, R.T.; KALLSTEIN, R.S. AND WILMOTT, C.J. (1980). Climatology: the challenges of the eighties. Professional Geography 32: 285-92.
-MENDONÇA, M., ROMERO, H. y OPAZO, D. (2014). Análise multiescalar para a comprenssao de causas e consequencias da variabilidade climática na América do Sul. Experimentos em Climatología Geográfica. Organizadores: Charlei Aparecido de Silva, Edson Soares Fialho e Ercilio Torres Steinke. Asociación Brasileña de Climatología Geográfica, pp. 271-290.
-NUÑEZ, L., GROSJEAN, M., and CARTAJENA, I. (2010), Sequential analysis of human occupation pattern and resource use in the Atacama Desert. Chungará, Vol. 42, N°2: 363-391.
-POPKE, J. (2016). Researching the hybrid geographies of climate change:reflections from the field. Area, 2016, 48, 1: 2-6.
-ROMERO, H.; OPAZO, D .y SEPULVEDA, D. (2017). Topoclimatología andina del norte de Chile: estimaciones estadísticas e interpretaciones culturales. XVI Encuentro de Geógrafos Latinoamericanos, Universidad Mayor de San Andrés, La Paz, Bolivia, 24-28 de abril de 2017
-ROMERO, H. y OPAZO, D. (2016). Socioclimas, riesgos y ordenación del territorio en las comunidades altoandinas del desierto de Atacama, En Clima, Sociedad,Riesgos y Ordenación del Territorio. Jorge Olcina, Antonio Rico y Enrique Moltó (editorees), Asociación Española de Climatología Serie A, nº10: 610-612.
-ROMERO, H. y MENDONCA, M. (2016). Socioclimas y glocalización en el Desierto de Atacama. IX Simposio Latinoamericano y V Iberoamericano de Geografía Física. Guimaraes, Portugal.
-ROMERO, H., MENDONCA, M., MENDEZ, M. y SMITH, P. (2011). Multiescalaridad, relaciones espaciales y desafíos ecológico-sociales de la climatología sudamericana. El caso del desierto de Atacama. Revista Brasileira de Climatologia.Año 7.Vol. 8. Pp.7-29.
-ROMERO, H., MENDONCA, M., MENDEZ, M. y SMITH, P. (2013) Macro y mesoclimas del Altiplano Andino y Desierto de Atacama: Desafíos y estrategias de adaptación social ante su variabilidad. Revista de Geografía Norte Grande, PUC-Chile, volumen 55, 2013. Pp. 19-41.
-ROMERO, H. y VINAGRE, J. (1985). Topoclimatología de la Cuenca del Río Mapocho. Inform. Geogr. Chile 32: 3-30.
-TESURO, W. (1988/1935). Climate and Culture: A philosophical study (Trans Bownas, G.) Green Wood Press, New York.
-VAN KESSEL, J. y SALAS, P.E. (2002). Señas y Señaleros de la Santa Tierra. Agronomía Andina. Número 4 de la Serie: "Wageningen studies on heterogeinity and relocalization" del Departamento de Sociología Rural de la Universidad de Wageningen, Holanda.
-VAN KESSEL, J. (1992). La organización tempo espacial del trabajo entre los aimaras de Tarapacá: la perspectiva mitológica En Etnicidad, economía y simbolismo en los Andes: II congreso. ARZE, Silvia (dir.). Nouvelle édition. Institut français d'études andines.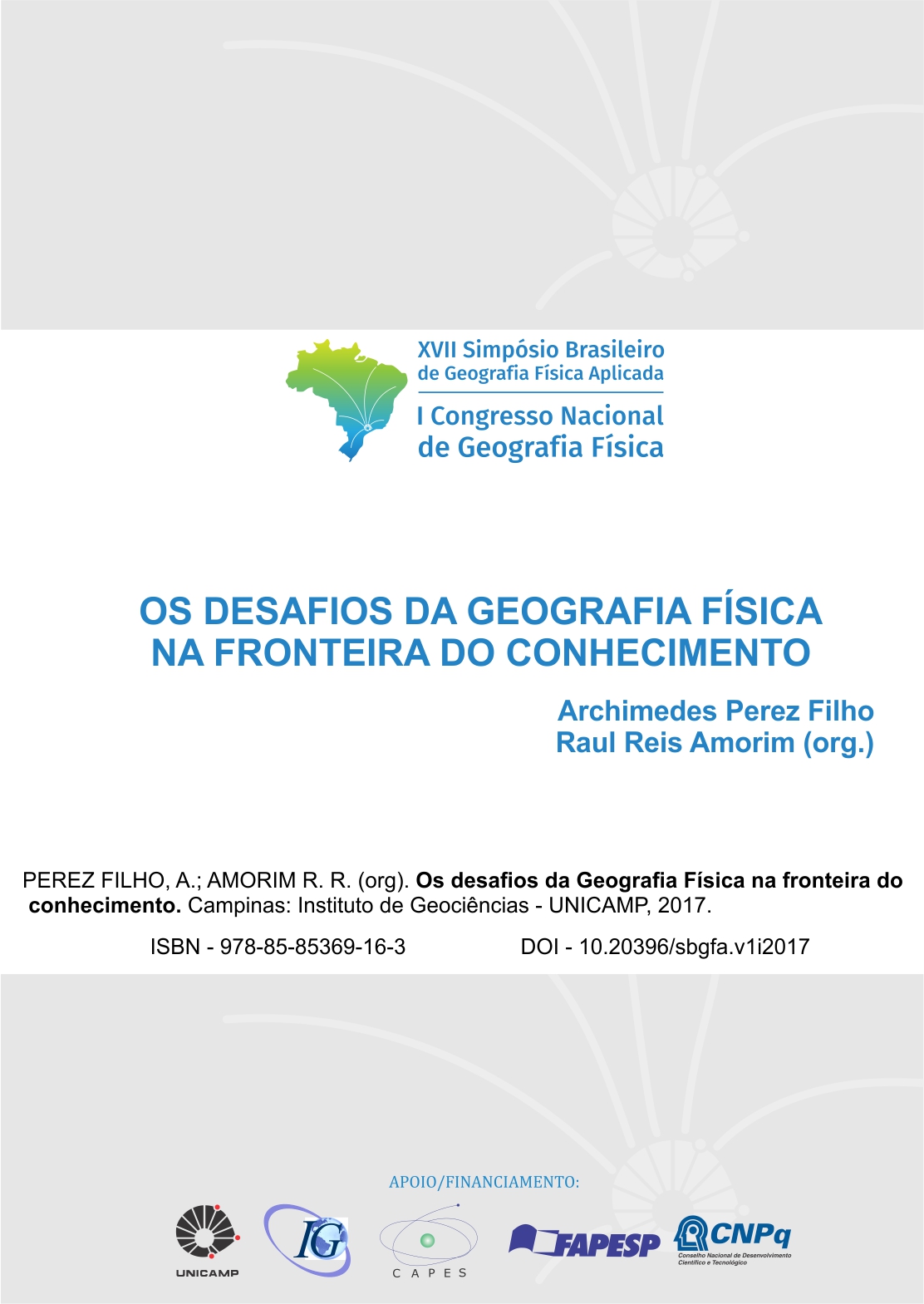 Downloads
Seção
Climatologia em diferentes níveis escalares: mudanças e variabilidades